Following the addition of an Expression of interest (EOI) system to rank applicants by their scores in 2021, Ontario's increasing the requirements of its provincial nomination programs and restricting what type of workers can immigrate to Ontario again.
Based on this amendment, the province will add a language requirement of Canadian Language Benchmark (CLB) 5 or above to the Employer Job Offer Foreign Worker Stream. Programs under the Employer Job Offer stream are the most popular programs under OINP. They are also the last few provincial nomination programs in Canada that do not have a mandatory language requirement.
The change will likely be effective starting in early November 2022. Note that it will not apply to OINP applications that have already been submitted but only to new applications.
Also included in this amendment, there are two other changes.
Ontario will now require that those applying under Employer Job Offer International Student Stream and who studied in Canada for one year have a certificate recognized by Ontario Qualifications Framework.
The province will also adopt the National Occupational Classification (NOC) 2021 version, created by Statistics Canada and Employment and Social Development Canada last year. Many new occupations are included in the new NOC version that will better reflect the labour market and people's occupations nowadays. The adoption of NOC 2021 is ahead of the federal government, which still uses NOC 2011. By having more specific and up-to-date occupations, NOC 2021 will benefit applicants, RCICs and immigration lawyers with more specific occupations. It will be easier and more accurate when determining someone's NOC code for their past or future jobs.
Overall, applying for OINP with the additional requirements will become harder. Some applicants may have to consider other immigration options, such as Federal Skilled Worker, ICT, LMIA (purchase a small business), Start-up Visa, SINP International Skilled Worker: Occupation In-Demand or AAIP.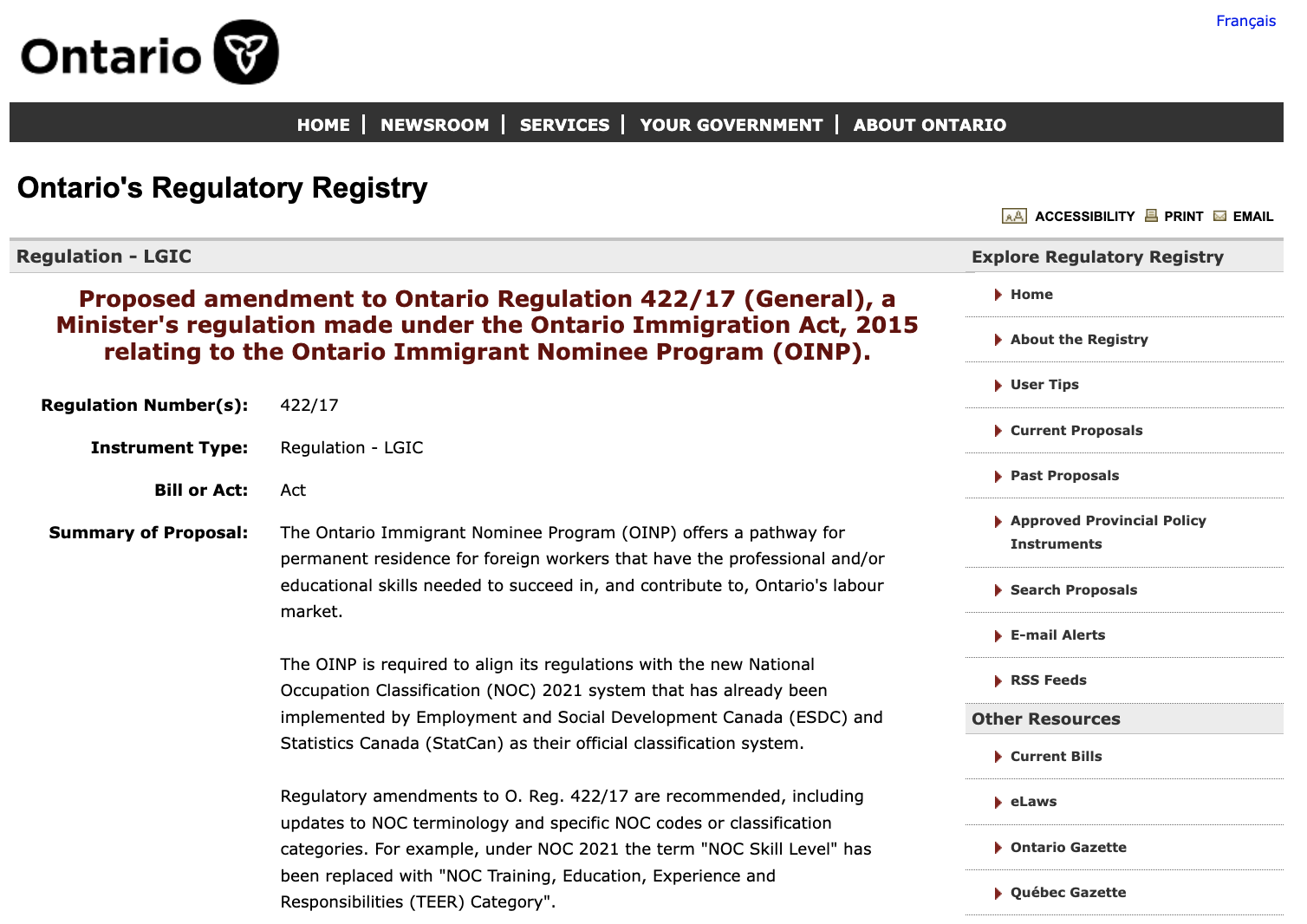 Check your eligibility for Canadian visas with instant results here.