Jan 10, 2023
USA
Super News
USCIS Update: The cost of employment-based visas is set to increase significantly
The U.S. Department of Homeland Security (DHS) has proposed a new fee schedule for visa and naturalization applications submitted to the U.S. Citizenship and Immigration Services (USCIS). The proposed fees will increase by a weighted average of approximately 40% across the board, with naturalization and employment-based visas seeing significant increases.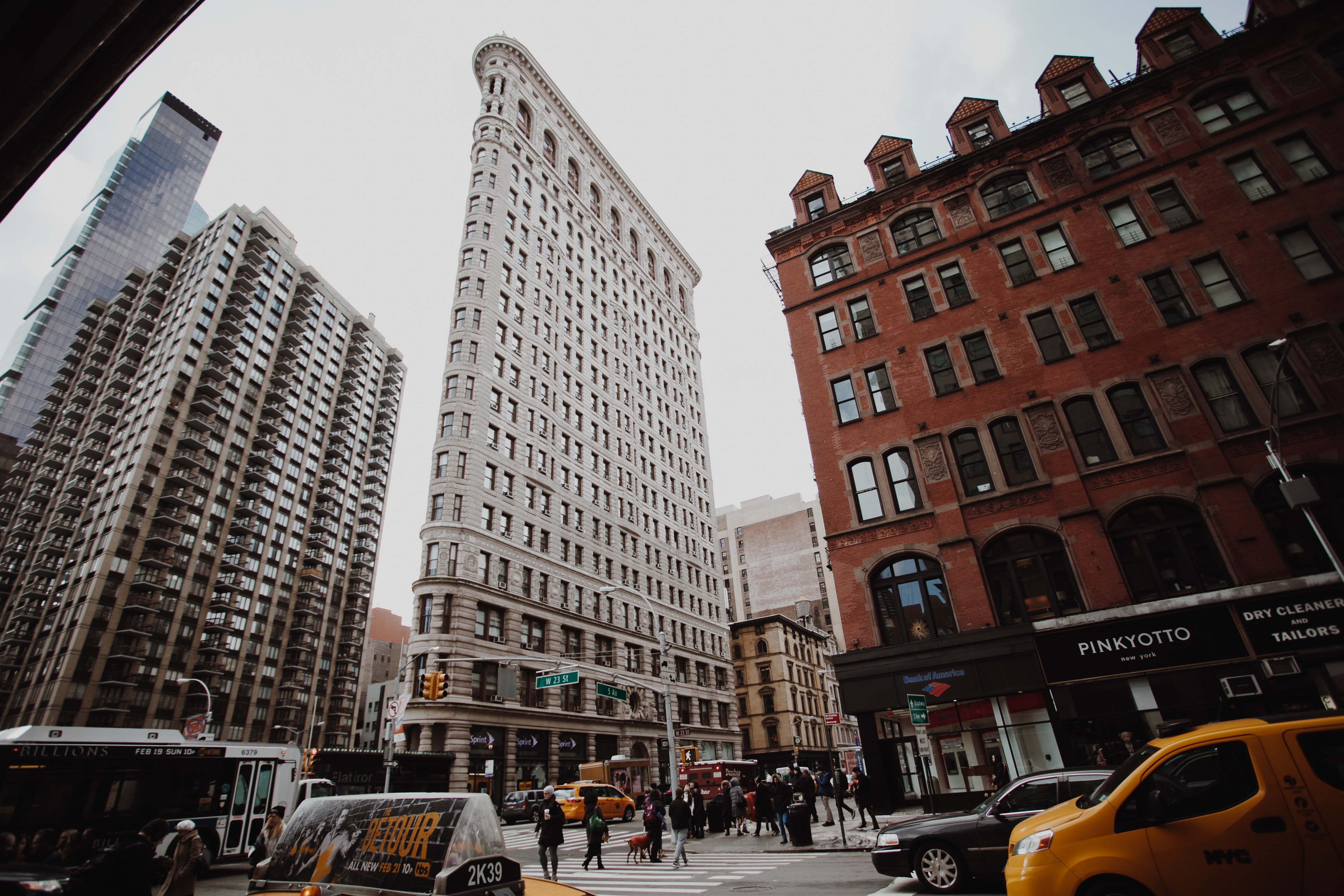 On January 4, 2023, DHS submitted a proposed fee schedule for visa and naturalization applications to USCIS. The last time USCIS fees were updated was in December 2016. Overall, the proposed rule would boost the revenue for USCIS from about $4.5 billion a year to approximately $6.4 billion a year. While humanitarian-based visas would see a reduced fee for many applications, naturalization and employment-based visas would significantly increase. According to DHS, immigration fees will increase by a weighted average of about 40% across the board. In reality, however, the fee changes will not affect all immigration benefits equally. These fee increases are open for comment from the public for 60 days following their publication in the Federal Register.Based on our experience, the increases will take effect later in 2023, likely between May and August. If you are looking to apply for employment-based visas, we recommend that you start preparing and filing your application as soon as possible to save on filing fees.
Significant Changes in the Announcement
Form I-129 for Nonimmigrant Workers USCIS has proposed changing the standard $460 filing fee for all I-129 petitions to a fee based on the type of visa classification sought. For example, the proposed H-1B fee would be increased to $780, a 70% increase. Likewise, the L-1 fee would be increased to $1385, a 201% increase. Free trade petitions like the T.N. or the E classifications would see a fee increase of 121% to $1,015. The chart below shows changes for all classifications associated with Form I-129. In addition to the fee increase for the H-1B petition, USCIS has also proposed to drastically increase the H-1B cap registration fee for cap-subject H-1B petitions. The proposed fee schedule would increase the registration fee from $10 to $215 per registration, or a 2050% increase. DHS has indicated that the significant increase is aimed at the rising cost of administering the H-1B registration system. Changes to Premium Processing USCIS has proposed increasing the premium processing adjudication period from 15 calendar days to 15 business days. As of now, there have yet to be any proposals to increase the premium processing fee which currently sits at $2,500. Changes to Adjustment of Status As seen in the 2020 fee proposals under the Trump Administration, the agency is again proposing to require separate fees for Form I-485 adjustment of status applications and the tangential benefits of the employment authorization document (Form I-765) and advance parole (I-131) when the applications are filed together. Fee increases to all three forms are shown in the chart below. USCIS has also proposed removing the age notation of form I-485 for those under the age of 14 and has rather proposed one fee for all I-485 petitions to USCIS. Biometrics for USCIS The proposed rule also incorporates biometric fees into the primary immigration benefit for nearly all case types where a biometric fee is required. Only Temporary Protected Status petitions would maintain a separate biometric fee. Online Filing of USCIS applications The proposed rule was not all doom and gloom for U.S. employers. Within the proposed rule, USCIS seems to be incentivizing online filing for eligible petitions by proposing to lower fees for those applications. Online filing is available for applicants who are directly filing a limited number of forms, including Forms I-90 (Application to Replace Permanent Resident Card), I-130 (Petition for Alien Relative), I-539 (Application to Extend/Change Nonimmigrant Status), and I-765 (Application for Employment Authorization), among others. Chart of Proposed Fee Changes for Employment-Based Petitions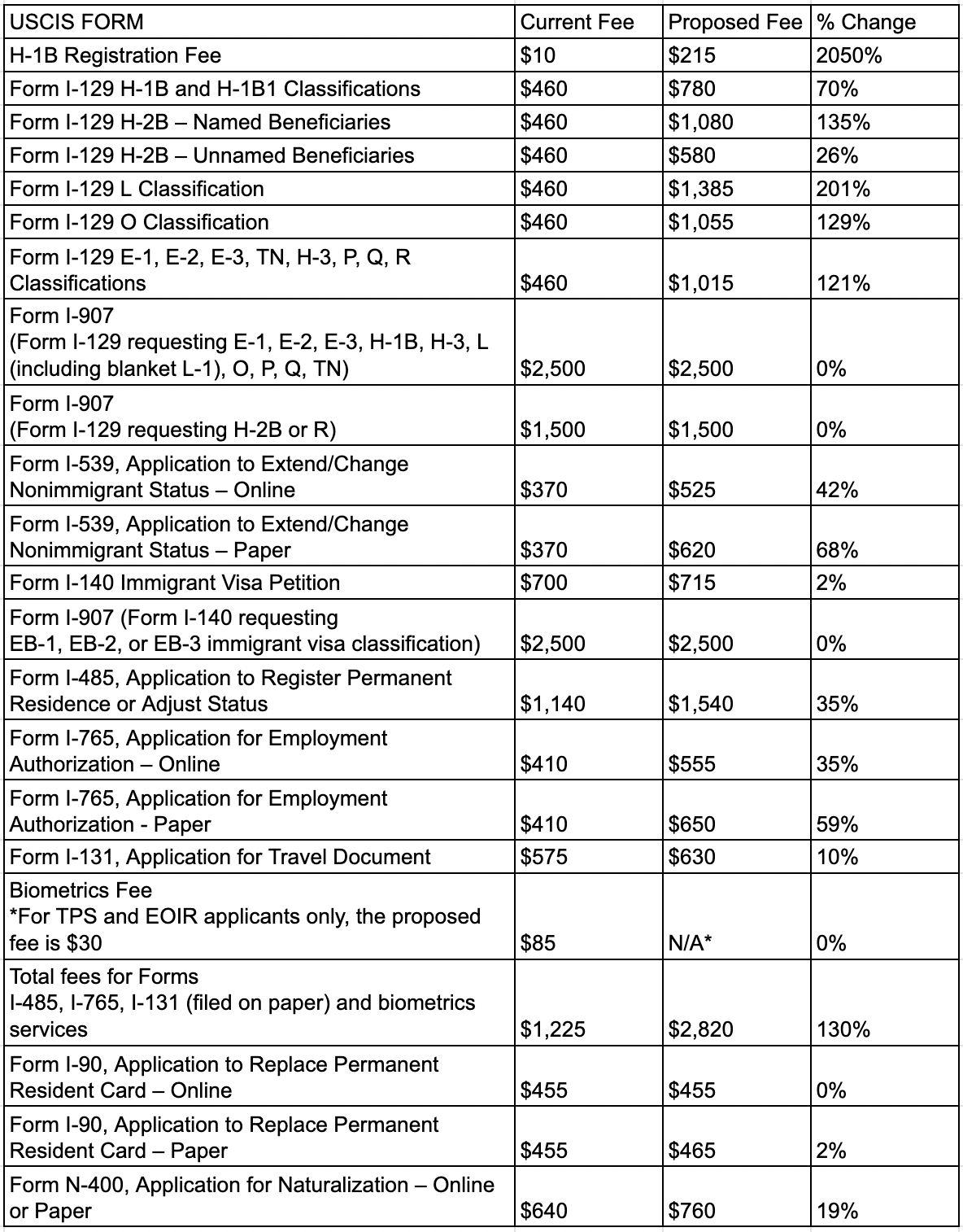 Are you applying for employment-based visas? If so, start preparing and filing your application as soon as possible so that you don't pay extra on filing fees!