Oct 25, 2023
USA
TN Visa
Guide to the United States
The Complete TN Professions List 2023
The TN visa permits Canadian and Mexican citizens to work temporarily in the U.S. Eligibility primarily hinges on educational qualifications, typically a bachelor's degree. The visa covers four categories: General, Medical, Scientific, and Teaching, each with specific professions and criteria.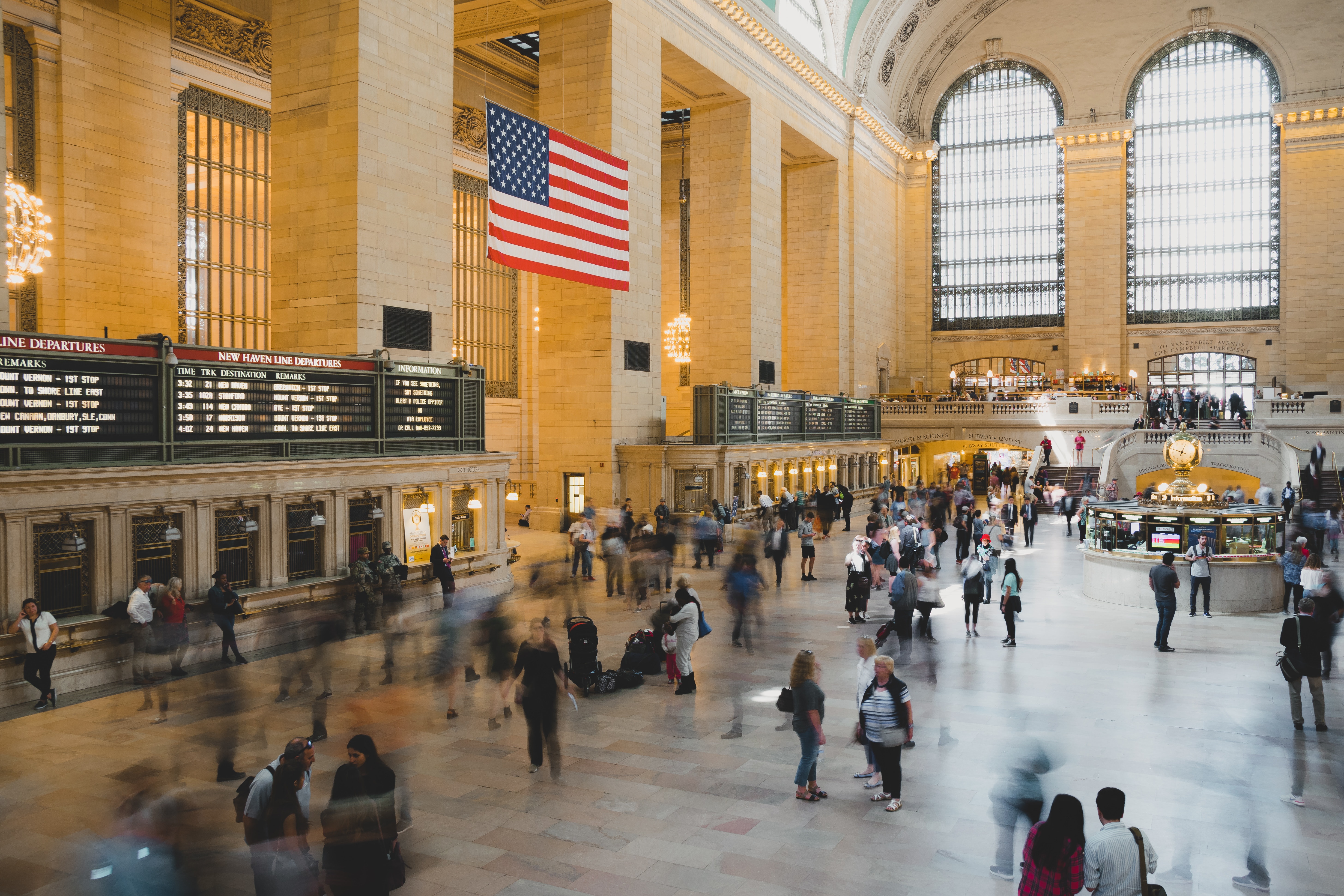 What is a TN visa?
The TN visa, a unique non-immigrant classification initially developed under the North American Free Trade Agreement (NAFTA), is exclusively designed for the benefit of Canadian and Mexican citizens. With the United States, Mexico, and Canada replacing NAFTA with the United States–Mexico–Canada Agreement (USMCA) in July 2020, the TN visa continues to offer an opportunity for Canadian and Mexican citizens to work in the United States temporarily. This article explores the various aspects of TN visas, including eligibility requirements, categories, and credential prerequisites, from a distinct perspective.
Eligibility under the USMCA
The USMCA allows Canadian and Mexican citizens to enter the United States temporarily for specific designated professional services. However, navigating the current U.S. immigration landscape, marked by rigorous enforcement efforts, underscores the importance of a meticulously prepared TN visa application.
Credential and Educational Requirements
For most TN visa occupational categories, educational credentials are essential. A bachelor's degree typically serves as the minimum requirement. Alternatively, in certain cases, possession of a post-secondary diploma along with three years of experience can qualify an individual. Specific education, credential, or licensing requirements vary by profession. It's worth noting that in some cases, applicants may qualify without a degree or diploma, and these include disaster relief insurance claims adjusters, management consultants, and scientific technicians. One essential point to consider is that immigration officials often require a specific degree in the occupational field to qualify for TN visa status, which can differ from the government's guidance stating that the degree "should be in the field or in a closely related field." Applicants with degrees from institutions outside the United States, Canada, or Mexico must obtain an academic evaluation from a reputable credential evaluation service that specializes in these assessments. Unlike H-1B visas, TN visa applicants cannot combine education and experience to meet bachelor's degree requirements.
Categories of TN Status
The TN visa broadly covers four occupational categories: General, Medical, Scientific, and Teaching. These categories encompass numerous specific professions for which individuals from Canada and Mexico can apply for TN status. Notably, the USMCA's TN laws and regulations do not explicitly define the permissible positions or job duties under these categories. Rather, eligibility depends on whether the position demands one of the specified credentials for the given category. If a role requires a bachelor's degree, it should be eligible for TN visa status under that specific category.
Required Documentation
Applicants for TN visas must provide various documents when applying at land or air ports of entry:
Evidence of citizenship and entry document
Executed TN support letter
Copy of the applicant's resume
Copy of the applicant's degrees, transcripts, diplomas, or certificates
Executed attestation letter of supervising professional (for Sci/Tech TN)
Copy of supervising professional's degrees, diplomas, certificates (for Sci/Tech TN)
Executed consulting agreement (for management consultant TN and independent contractor)
Copies of previous experience letters proving five years of experience
Previous experience letters (if necessary)
Academic/experience evaluation (for degrees obtained outside North America)
For applicants filing through USCIS, additional documentation is required, including Form I-129, Form I-129 free trade supplement, a copy of the valid passport face page, a document evidencing current non-immigrant status in the U.S., and the I-129 petition filing fee.
List of TN Visa professions
To qualify for a TN visa, Canadian individuals must be seeking temporary employment in one of the professions listed in Appendix 2, Chapter 16 of the USMCA. These eligible professions include, but are not limited to: General Professions: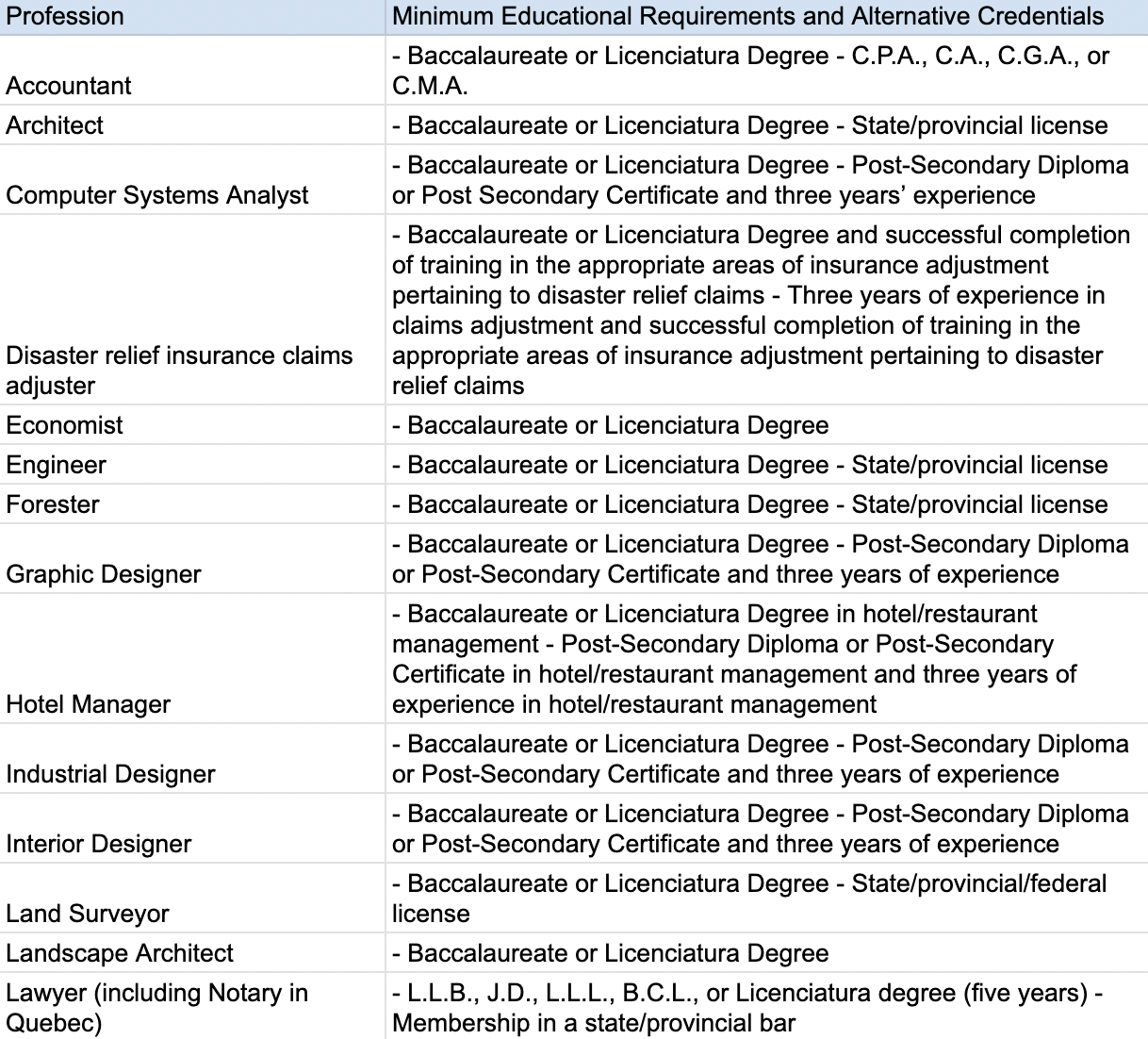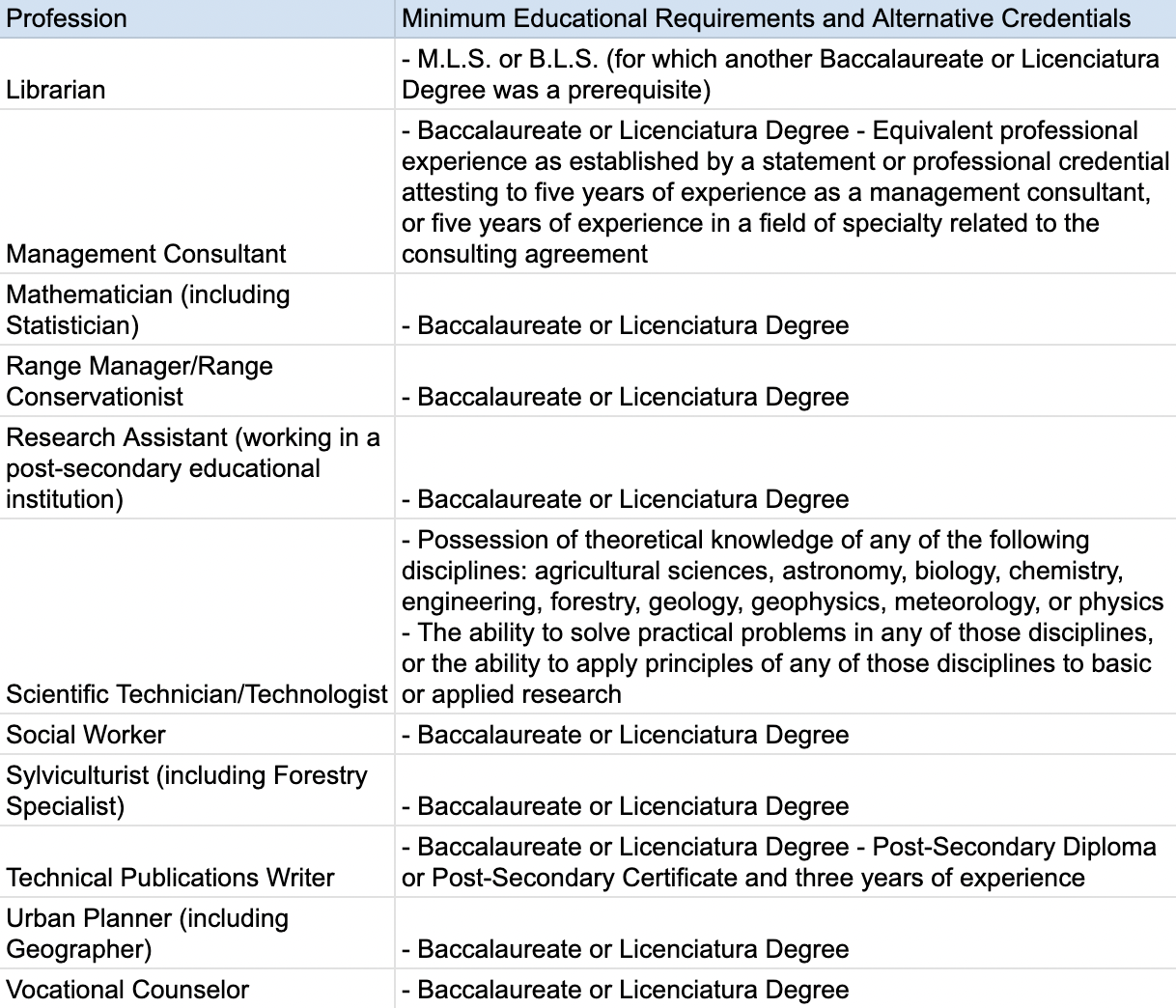 Medical/Allied Professions: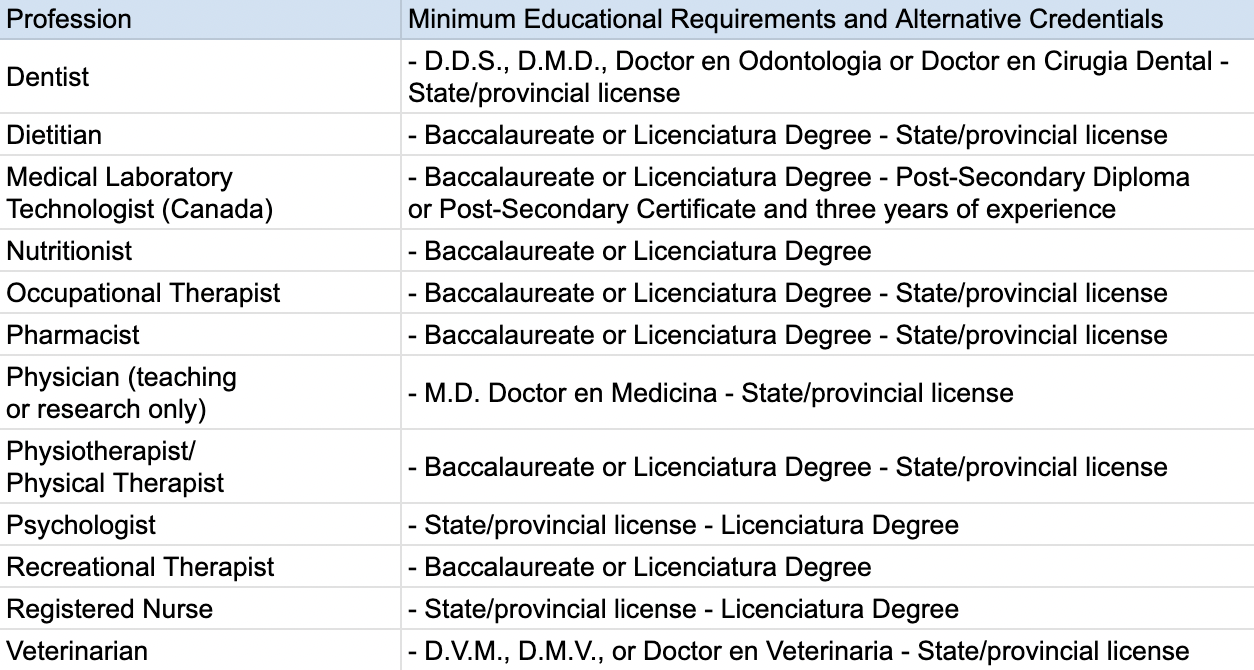 Scientists: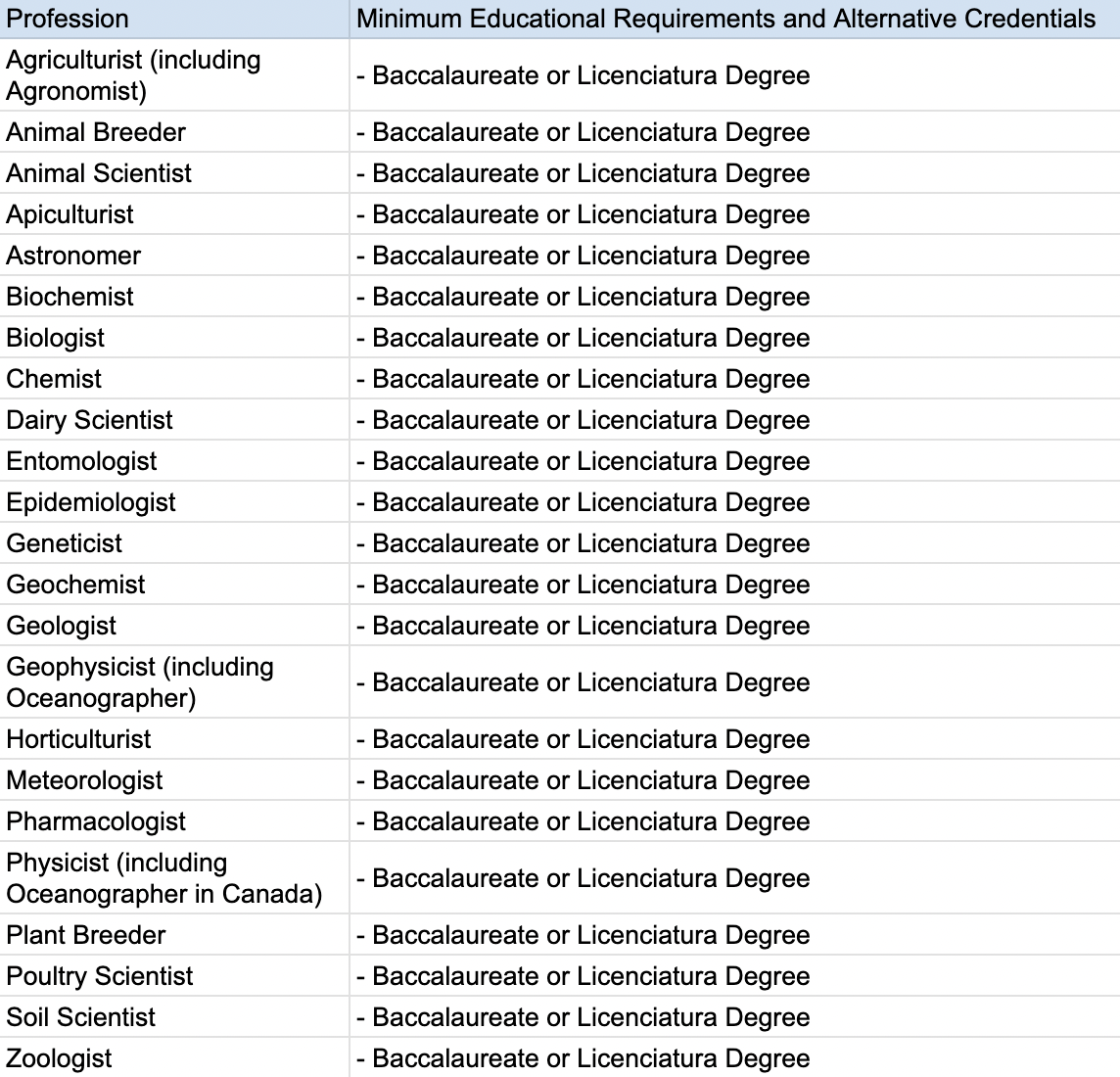 Teachers:

Dependent Family members


Under the TN visa program, individuals below the age of 21 and spouses may qualify to enter the United States as dependents under the TD nonimmigrant status. It's important to note that dependents of TN visa holders are not authorized to engage in employment activities during their stay in the U.S. However, they are allowed to pursue academic studies. It's crucial to bear in mind that the duration of their stay cannot exceed the period granted to the primary TN visa holder. Follow us on social media for more exciting updates coming your way.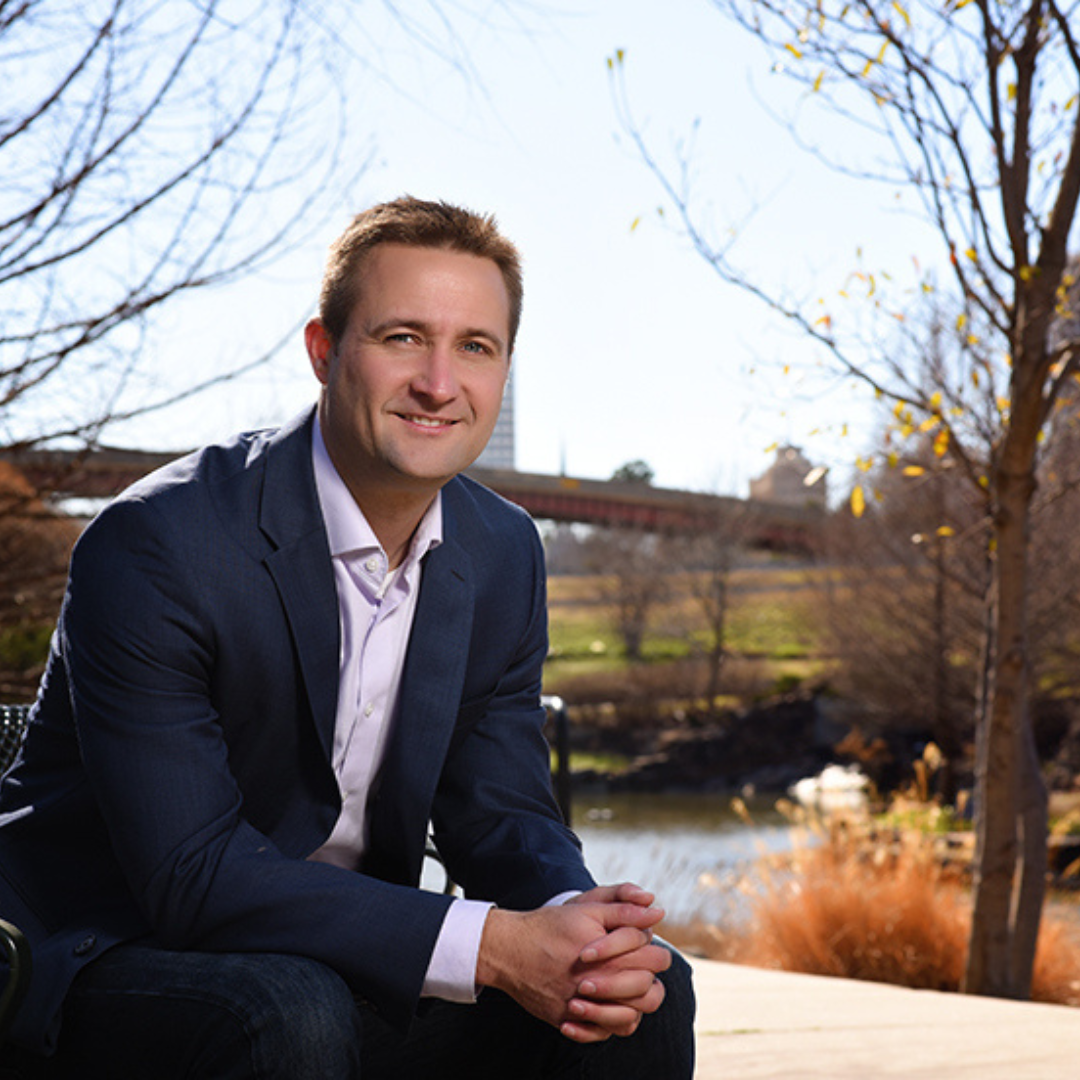 U.S. Immigration Counsel
Robert Wees