May 19, 2020
Canada
Team SuperVisas
15 Years Ago I Moved To Canada For College. Today I Run A Growing Canadian Immigration Tech Startup. Here's My Story.
I've had my ups and downs, but now I've used that experience to help others live their Canadian dreams.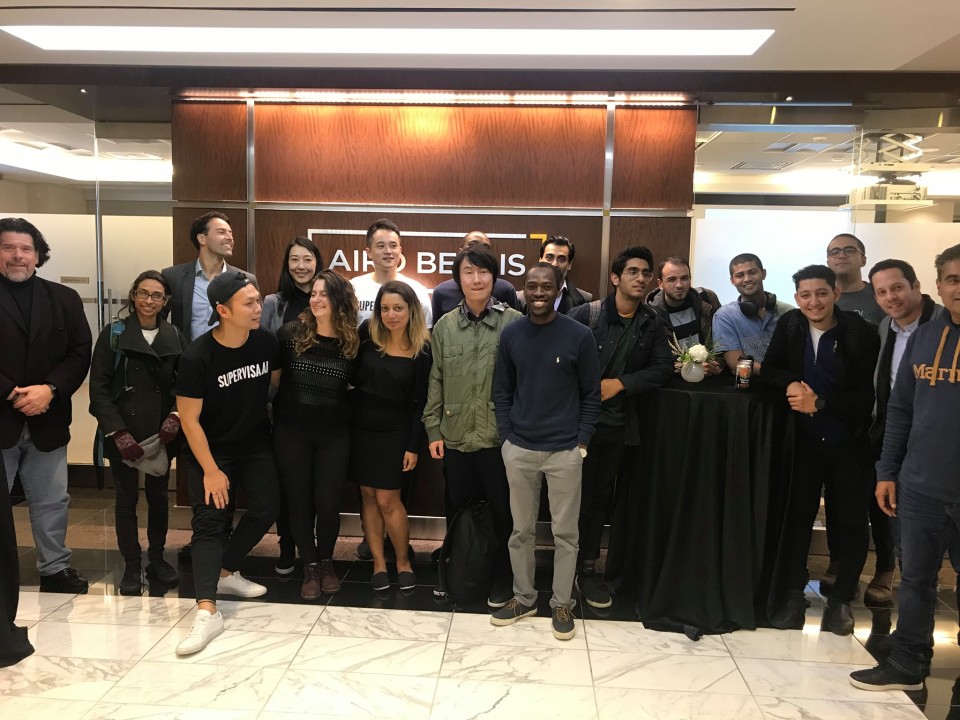 I was weeks away from college graduation - the end of my last semester was right there in front of me. But instead of preparing for the next stage of my life and celebrating with friends, I was sitting outside of an administrative office at George Brown College, face buried in my hands, in tears. I was about to lose my international student status, not complete my degree, and be sent back home to China.
In the end, that worst-case-scenario didn't happen - I'm now happily living in the city of Toronto as a Canadian citizen. But the experience I had that day left an imprint, and was the reason I eventually left my full-time job to build an immigration technology startup I wish had existed when I was an international student living in Canada, trying desperately to navigate the Canadian immigraiton system.
But before I skip ahead, I want to bring it back to the beginning. 
I want to share how I ended up in Canada to study, why I almost had to return to China despite being weeks away from graduation, how I worked with immigrants after graduation and what I learned from it, how I then started a successful company that ended up making nearly half a million dollars a year, and why I ultimately closed that company down to put all my time and energy into SuperVisas.
Here's the story.
It was all going smoothly, until it wasn't
It's kind of strange to say this, but I actually came from a fairly well-off family. Nothing out of this world, but I felt lucky that I had the opportunity to move to Canada for my undergraduate studies and have my family support me while doing so. Though even that had a rocky start.
You see, I'm originally from China, and when my family decided that I'd attend university in Canada, we were excited but not exactly sure what to do. So we found an expert - an agent who would work with us to help get me into a Canadian university. A good one, he assured me. Eventually, the process was complete - all the paperwork was done and I was off to the fourth best university in Vancouver. I was impressed and proud of myself!
But when I showed up to beautiful Vancouver, it turned out that, well, there were only four universities in the city to begin with.
You can't even imagine how frustrated I was! I called to my parents, explained the situation and that we were basically duped, and immediately reapplied to more schools. Eventually I was accepted to York University and moved to Toronto. 
From there, things started to go more smoothly - I was focusing on my studies as a business administration major, participating in university activities and looking ahead to the future. But of course nothing good in life lasts for too long. Because that's when my mother called me.
To put it lightly, our family fell on extremely hard - we had filed for bankruptcy, she told me. And because of that, they would no longer be able to support me. So no more rent, and even more importantly, no more tuition. All of a sudden my future, and indeed my present, screeched to a halt.
I was shook. I remember that day like it was yesterday - it was my third year of studies at York, I was looking forward to graduating and starting a career here in Canada, and now suddenly this dream was ripped from right under me. But I didn't want to give up, so I resolved to figure it out.
Unfortunately the first thing I had to do was drop out of York University because, honestly, it was too expensive. That's when I ended up enrolling into George Brown College, luckily being able to transfer over most of my credits from York.
The next thing I did was move out of my apartment - a small, but comfortable studio where I lived alone - and moved into a tiny den that would cost me about $500/month. But that wasn't enough, because I now needed some income too. I remember it was winter, and I woke up one of those first nights at 3am, restless. I was feeling miserable. I had no money (I was borrowing from friends to make rent), and no future beyond just a few months it seemed. I had to figure something out.
After I stared into the darkness for some time unable to fall asleep, I shot up, put on pants, boots and a warm jacket, and left. I didn't know where I was going, but I needed to be doing something. I walked and walked and walked. And you know what? That night I actually landed a part-time job. I walked into a Croissant Tree and asked them if they needed any help, and they said yes, from 5AM to 8AM. Without thinking, I said, "I'll take the job!" - three hours a day, $7 per hour, every day before class. It wasn't enough to fully pay for rent and tuition, so I still had to continue borrowing from friends, but it was a start.
A start that would almost turn into the end, as I'd soon find out.
Reading week turned into reading year.
After working at Croissant Tree for a few months, and leading into the spring, my study permit was nearing its expiration, so I had to get it renewed in order to be able to continue my studies and work, finish out my semester, graduate and finally move on.
I went to renew my study permit when I had some time during reading week (a week shortly before finals when class is canceled so students can prepare for their exams). I came to the George Brown international student office to ask for specific documentation to renew my study permit, but the administrator there couldn't help me. I need to speak to the director, they told me, but the director was on vacation that week.
Normally this wouldn't be a problem, but this time was different. That's because by the time the director came back, it turned out my study permit had expired. When I finally went to see the director, he basically threw his hands up into the air and told me he couldn't issue the letter I needed. In other words, my study permit had lapsed and they had to kick me out of school!
I was furious. Upset. Panicked. All of my academic accomplishments, everything I had to go through when my family fell on hard times just to stay in school, after all that, everything was going to be thrown away! At this point I was weeks away from graduation, and now I was faced with being unable to finish my studies and the possibility of having to go back to China.
I walked out of the director's office, sat down on a bench, dropped my face into my hands, and started to cry.
As I was sitting there visibly upset, a man came out of another office and saw me. He asked me what was wrong and I explained my situation, so I told him the whole story. He put his hand on my shoulder and said he would help me. He got up, walked into the international office and directed them not to let me get kicked out of school, and therefore potentially out of the country. It turned out he was one of the university's vice-principals.
I learned that day that I actually had a 90-day restoration period where, after a study permit expires one can get it reinstated. This was great news! But this didn't solve all my problems - the bad news was that at the end of it all, I actually wasn't going to be able to graduate that year because of the timing of this whole mess, and while I thought I might be able to graduate the following semester, it turned out that the classes I needed to graduate weren't going to be offered for an entire year. In other words, I had to wait an entire year just to be able to finish my credits and finally graduate.
In any other circumstance I would have been upset, but the fact that I had my study permit reinstated, could stay in Canada and was going to eventually graduate seemed like a victory. Yes I had to spend the next year, in a sense, waiting, but that beat the alternative - not graduating at all and flying home to China with my tail tucked between my legs.
During that year I was able to work some hours, so I did what I could to continue to pay rent and maintain my status in Canada. Once the year rolled around, I finished up my last semester, got my cap and gown, and triumphantly walked out of George Brown College, finally, as a graduate.
Other Chinese nationals needed immigration help too, so I launched my first successful business.
After I graduated, I applied for and received a three-year work permit and, thankfully, got my first job! It was with a startup company called Yiwii that helped Chinese students successfully move to Canada to study, get them settled and eventually encourage them to stay, start businesses and thrive. Not only was this something I was passionate about because I wanted to make sure other international students would never have to go through what I went through, I also figured, to be honest, that if I worked in immigration I wouldn't mess up my own immigration process again. In any case, I was just happy to get a job.
I worked at Yiwii for over four years, starting as a marketing manager and eventually becoming the company's chief operations officer. During those four years I also applied for and became a Canadian permanent resident. Today, happily, I'm a proud Canadian citizen.
I soon came to learn, however, that there were immigration consultants and even lawyers out there who charged way too much money, didn't provide a great service, and at times even gave misleading information. This frustrated me because I could relate from personal experience - every time I heard yet another horror story about foreigners, especially Chinese students, trying to make their way to Canada only to be misled and ripped off by less-than-professional immigration consultants, it infuriated me.
While at Yiwii I also met the CEO of an educational tech company that paired English speakers in the US and Canada with Chinese students looking to enhance their English skills. This CEO showed me how utilizing technology could help educate people in China who were looking to improve their English while also giving American and Canadian English-speakers the opportunity to tutor and earn some extra money. She inspired me.
Because planted the seed of what would eventually SuperVisas.
The combination of seeing Yiwii clients who had gone through bad immigration experiences and this new understanding of just how powerful technology could be to connect people to each other inspired me to start thinking through how I could potentially leverage technology to help as many people with their immigration needs as possible.
But before the idea for SuperVisas truly blossomed, I first started an immigration referral company. In hindsight this was the perfect next step for me, but the funny thing is that this company actually ended up doing well… So well that I almost kept it going. And if I did, I wouldn't be writing this right now.
Starting a successful non-tech immigration referral business showed me that tech was the answer.
While working at Yiwii, I started to really engrain myself into the immigration industry - I connected with many Canadian immigration consultants and lawyers who I trusted, and also became known in China as a resource for students and others trying to immigration to Canada. So I decided to open a company connecting Chinese nationals interested in Canada with fair and trustworthy Canadian immigration experts.
I parted ways with Yiwii and, in 2017, launched Global Camp, which referred Chinese clients to Canadian immigration lawyers and consultants. Why did people come to me? Because while many immigration "experts" in China charged people up to $10,000 and delivered, in many cases, less-than-expert services, those same services cost much less and were much higher quality in Canada. It's just that many of these Chinese clients didn't know who to go to.
So we became the connector - Chinese clients came to me to connect them with Canadian immigration experts, and the Canadian immigration experts got steady business from Global Camp. As a business, we essentially charged a referral fee, and frankly the company did quite well: almost half a million dollars in revenue per year.
But there was a fatal flaw: once we made the initial introduction, those Chinese clients would then go straight to the immigration provider for follow-up work, circumventing Global Camp altogether. And to be honest, this made sense - we didn't have a technology platform to facilitate the connections we made (indeed, we were working mostly through email and WeChat), so our business wasn't very "sticky."
We needed to go from a referral business to an immigration technology platform - and that's finally how SuperVisas was born.
We tried to find an out-of-the-box software solution that we could build our tech on top of, and eventually came across builder.ai. Once we started to work with them, the builder.ai team told us about Collision Conference in Toronto. We decided to go, but didn't know what to expect.
Well, when we actually got to the conference, we were blown away. The entrepreneurial energy was contagious. Intoxicating, almost. So much so that at the end of the conference, I turned to my co-founders and blurted out, "we're going to be at Collision next year!" I didn't mean as mere spectators, I meant as participants.
In hindsight, I had no business saying this… we were nobody. But I had a vision, that we were going to built a tech platform that could truly help people with their immigration journey, and for some reason I just felt that we belonged at Collision, amongst all those massively successful SaaS companies.
It turned out I wasn't totally off the mark.
SuperVisas' rapid rise, where we are today, and my vision for the future.
We launched SuperVisas in June 2019, and after a few months of tinkering, applied for and got into The Founder Institute, which really threw us dead center into the startup ecosystem. We spent three months creating our product roadmap and getting started with our minimum viable product (MVP).
When we graduated from The Founder Institute in September 2019, we hired a full-time developer to finish building our MVP, and we were off to the races. Our plan of attack was to utilize as many APIs as possible rather than build everything from scratch, so we were actually able to complete our MVP within three months. The final product allowed individuals interested in immigrating to Canada to determine their visa eligibility, complete their application right on SuperVisas and have that application reviewed by a top-tier Canadian immigration expert prior to submission. All at an affordable flat rate.
That was our vision from the start, and by the way, that's exactly what we do today.
Because I had years of experience in the immigration industry, I already knew many high-caliber immigration experts and was able to get them onto SuperVisas fairly easily. And we were getting clients right from the start, which meant we were already generating revenue, collecting feedback from users, and slowly optimizing the platform.
But we knew that if we really wanted to scale, we had to hit the gas. So we started looking around for pre-seed incubators and accelerators that would help us take SuperVisas to the next level. It was winter 2019, going into 2020.
After an extensive application process, we got the opportunity to pitch for an incubator we were incredibly excited about: Velocity, backed by the University of Waterloo.
Once we knew we were pitching, we really kicked it into high gear. We continued to build SuperVisas during the day and worked hard on our pitch every night. We were up against dozens of impressive startups, so we had to bring our A-game.
I'll cut right to the chase - we pitched Velocity on February 27, 2020 and... we won!
As winners, SuperVisas and a few other finalists received seed investments, were admitted into the incubator and got the opportunity to work out of Velocity's awesome Waterloo co-working space. Our seed investment was $50,000!
This was huge for us. The incredible network, the favorable press, the investment - we were on our way. In fact, just one year after we attended the Collision conference for the very first time, we were going to have our own booth. That's right - a year prior I was somehow sure we would have a presence at Collision a year later, and we actually made it happen!
Now, February 2020 seems like a lifetime ago. With the COVID-19 pandemic bringing the world to a screeching halt, the immigration industry is both holding its breath but also preparing for the future. Canada has big plans to continue to grow the economy with the help of talented immigrants from around the world, and indeed, given the impact of COVID-19 on the economy, immigrants will help Canada get there.
So what's my vision for the future?
A Canada that emerges stronger from the ashes of this global crisis. A Canada that shows the world how open, transparent and welcoming immigration policies can lead to growth and prosperity. A Canada that can become home to thousands, hundreds of thousands, or perhaps even millions of people looking for a better life, just like it did for me.
I want to help Canada get there, but more importantly, I want to help the world come here.
And I'm excited to take you along on my journey.